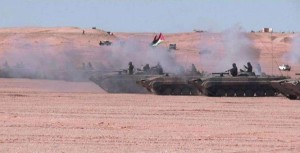 Algeria's frantic feverishness is growing as the Security Council meeting on the Western Sahara issue slated for the end of April is nearing, entailing not only media and diplomatic blunders on the part of Algerian authorities but also blackmail and intimidation attempts.
The latest gaffes were committed by the Algerian military intelligence services (DRS) when members of the Algerian delegation to the World Social Forum, held last week in Tunis, created disorder. The violence of the Algerian agitators, employed by the DRS, was videoed and their acts were strongly condemned by the organizers.
The organizers described such behavior as being "not up to the expectations."
The Algerian delegation's attitude was actually a thoughtless attempt to minimize the setbacks suffered recently by Algeria and its protégé, the Polisario, at the European Parliament, and also to send into oblivion the embarrassing scandal of the diversion of humanitarian aid to the Tindouf camps.
Besides the violence it caused during the World Social Forum, Algeria is threatening to resort to armed violence, announcing that the Polisario is conducting live-fire military exercises, at a time everybody knows that the separatist front has no decision-making freedom and that it is armed, financed and supported politically and diplomatically by Algeria.
The timing of this blackmail to the attention of the international community is quite understandable on the eve of the Security Council meeting in April as it shows the extent of the agitation of Algerian officials.
Their agitation is actually all the greater as they know that the great powers are becoming increasingly aware of the potential danger of the Western Sahara issue in a volatile region in terms of security. At the same time, the Algerian leaders are deeply distressed that the Arab League remains an inaccessible citadel to the Polisario or the Western Sahara conflict.
In any case, the latest developments confirm that the more Algeria denies it is involved in the Western Sahara issue, the more it evidences that it is mired in that conflict that it created artificially, using the Polisario as a cover.