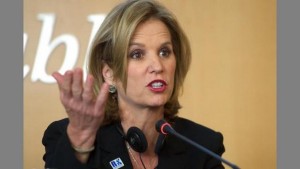 The President of the Robert F. Kennedy Center for Justice and Human Rights, Kerry Kennedy, could not hide her anger on the eve of the adoption by the Security Council of the UN Secretary General's annual report on the Western Sahara issue.
The lobbyist, who used to make inflamed statements and stage anti-Moroccan campaigns to supposedly defend the cause of the Polisario Front in its territorial conflict with Morocco, has reportedly told her close aides that she is appalled by Ban Ki-Moon's new report on Western Sahara.
According to a US diplomat close to the RFK Centre, Kerry Kennedy had concluded a lucrative deal with the Algerian leaders to campaign for the expansion of the MINURSO mandate to human rights monitoring in Western Sahara. After the UN report was disclosed without any change to the MINURSO mandate, members of the Algerian Embassy in Washington have reportedly asked Kennedy for accountability for the failure of her mission, said the US diplomat.
Algerian diplomacy had bet big on the issue of alleged violations of human rights in Western Sahara to weaken the Moroccan position on the international diplomatic arena, but to the great disappointment of Algerians and Polisario leaders, the UN SG has not raised this issue in any way in his 2015 report.
Worse than that, for the first time, Ban Ki-Moon has urged the Security Council to pressure Algeria to allow the organization of a census of the refugees in the Tindouf camps, the soonest possible.
It is for this reason that the Algerian diplomatic mission in Washington summoned Kerry Kennedy. According to the same source, the embassy might ask her to give back the amounts she received after she failed to fulfil her mission.
To calm down the fury of the Algerian diplomats, the president of the Robert F. Kennedy Center hastened last week to renew her appeal to the Security Council, calling for the expansion of the MINURSO mandate to Human Rights monitoring in Western Sahara.
The Security Council is to vote this April 30 on the UN Secretary General's report on the extension of the MINURSO mandate for another year.