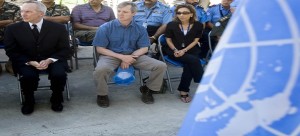 Relations between the Polisario Front and the UN mission in Western Sahara "MINURSO" have been strained, not to say confrontational, over the past weeks because of recent incidents targeting peacekeepers. 
The Special Representative of the UN Secretary General in the Sahara and head of the MINURSO, the Canadian Kim Bolduc, unexpectedly flew to Tindouf to ask the Polisario leaders to provide explanations about the latest provocative acts and harassment directed at UN peacekeepers who were on mission in the buffer zone between the Algerian territory and Western Sahara.
Kim Bolduc's unscheduled trip to Tindouf took place after Polisario armed militiamen bothered MINURSO officials, apparently in retaliation for the Security Council's refusal to extend the MINURSO mandate to human rights monitoring in Western Sahara as claimed by Algeria and the Polisario.
The census of refugees in the Tindouf camps required by the Security Council in its resolution 2218 of last April, also enraged the Algerian and Polisario leaders.
On May 1, Polisario armed militiamen intercepted a MINURSO vehicle that was heading from Morocco to the buffer zone to resupply peacekeepers, under the pretext that the vehicle had Moroccan registration plates.
Another more serious incident had occurred on April 30 in the same area. A helicopter carrying peacekeepers had been immobilized for hours on a landing strip by Polisario militiamen and the MINURSO agents were prevented from disembarking the plane unless they show their passports or other travel documents. The demand was uncommon as the MINURSO agents had used to visit the area without ever being asked to show their passports.
Buldoc, accompanied by her representative in the Tindouf camps and by military commanders of the UN mission, made the trip to Tindouf on Friday May 8 to put an end to such provocations.
Kim Bolduc made things clear to Mhamed Khaddad, member of the Polisario Front National Secretariat and coordinator with MINURSO. She firmly demanded that Algerian and Polisario officials reserve a special treatment to the peacekeepers as stipulated in the cease-fire agreement signed by Morocco and the Polisario in 1991 under the aegis of United Nations.