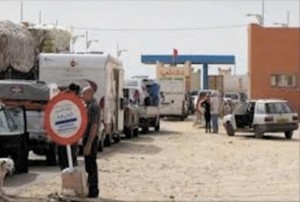 The Guergarate border crossing point at the farthest south of the Moroccan Sahara has been very busy lately.
After the border guards intercepted a Polisario activist with an Algerian passport, a senior Polisario official has reportedly rallied the Kingdom from the same crossing point, according to a Sahrawi e-journal.
According to the "radinews.ma" website, the Polisario official who returned to Morocco is the former president of the Polisario military court, Aba Ould Ahmed Mahmoud. He is reportedly a close relative of Mustapha Selma Ould Sidi Mouloud, the former head of the Polisario military police, who had been deported from the Tindouf camps to Mauritania few years ago. Mustapha Selma Ould Sidi Mouloud is still stranded in Nouakchott, away from his wife and his five children sequestered in the Tindouf camps.
Aba Ould Ahmed Mahmoud was able to cross from Mauritania to Morocco some ten days ago, through the Guergarate border post. He has been helped in his undertaking by a former founding member of the Polisario who rallied Morocco and held several positions at the Interior Ministry, including that of Wali of a Moroccan southern province. The two men are both from the powerful Rguibate-Bouihate tribe.
So far, there is no official comment from Rabat on this new defection in the ranks of the Polisario.
As to the Sahrawi activist who was returning from a long sojourn in Tindouf and who had been intercepted by the Moroccan border police at Guergarate separating southern Morocco and northern Mauritania, on June 6, a statement from the General Directorate of National Security (DGSN) said his name is Salaheddine Bassir.
This Polisario activist was wanted by the Moroccan police for armed assembly and premeditated acts of violence against law enforcement gents, acts of sabotage and destruction of public facilities, in the town of Smara in May 2013, said the DGSN statement.
He was eventually neutralized by the border police while he was about to enter Moroccan territory with an Algerian passport.
The passport was not falsified. "It was indeed a genuine Algerian passport that the individual got through the intermediation of the Collective of Sahrawi human rights advocates (CODESA)," according to the statement.