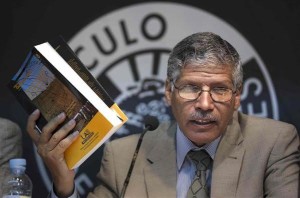 Senior officers of the Algerian military intelligence services (DRS) have made their decision. Abdelkader Taleb Omar, the so-called Premier of the Sahrawi republic, will take over the ailing Mohamed Abdelaziz, according to a well informed source in the Tindouf camps.
The image of a Taleb Omar on the official photo at the African Union summit in Johannesburg, instead of the current Polisario leader, Mohamed Abdelaziz, is a clear message. The message is addressed primarily to the Sahrawi rivals claiming succession to the ailing Mohamed Abdelaziz.
And if the Algerian DRS chose to take the lead, it is essentially to avoid exacerbating rivalries between the various Sahrawi camps, says the same source.
Among the most prominent contenders, the "defense minister" Mohamed Lamine Bouhali was seen as the favorite. He had attracted attention by his inflammatory declarations in favor of the resumption of armed struggle against Morocco. His threats to resort to arms again were made following the setbacks suffered by Algeria and the Polisario at the Security Council in April.
But although Bouhali is a former soldier in the Algerian army, and despite his fiery statements, senior officers of the DRS who have the upper hand in everything related to the Tindouf camps, preferred to cut short his claims.
Ironically, the rivalries emerging in the ranks of the Polisario between the various contenders are the perfect extension of the silent war taking place behind the scenes in Algiers for the succession to President Bouteflika, who is seriously weakened because of his health condition, analyzes the same source.
Actually, the Algerian regime does not take any risk when it comes to the Western Sahara issue. The appointment of Taleb Omar, malleable and disciplined, has thereby imposed itself.