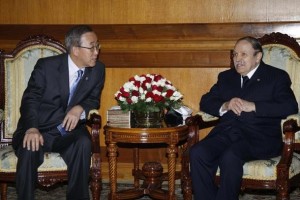 The UN Secretary General Ban Ki-moon is expected in September or early October in Western Sahara and in the Tindouf camps (southwestern Algeria) on what will be his first official visit to the region, reports Al Quds Al Arabi daily, quoting reliable UN sources.
The UN Secretary General had dispatched his chief of staff, Susana Malacorra, to the region mid-June, presumably to prepare for his trip.
Ban Ki-Moon has preferred to entrust this task to his chief of staff instead of his personal envoy for the Sahara, Christopher Ross, whose mediation in the Western Sahara conflict is practically at a standstill. Anyways, the informal talks between Morocco, Algeria, Mauritania and the Polisario conducted by Ross since his appointment in 2009, proved unsuccessful.
According to an American diplomat positioned in Rabat, Christopher Ross has exhausted all his resources and cannot go any further in his mediation in the absence of an innovative and balanced plan to settle the conflict. The Western Sahara territorial dispute between Algeria, which clings to the option of a self-determination referendum, and Morocco, which refuses to grant more than autonomy to the disputed area, has been going on for forty years.
The US diplomat asserts, as did many analysts and territorial dispute experts before him, that the key to the solution is in the hands of Algerian leaders.
He explains that the conflict will end if Algeria stops interfering in the issue and ends, as the host country, the blockade imposed on the Tindouf camps and their populations.
The American diplomat argues that the UN chief should have the courage to exact that the Algerian rulers open the gates of the camps and guarantee to the Sahrawi refugees the right to freedom of movement. Should this happen, almost 80% of these refugees will surely choose to return to Morocco, their homeland, the US diplomat says.
The remaining 20%, including the Polisario leaders who have the blood of their countrymen on their hands, will probably ask for political asylum in Mauritania, the Canary Islands, Spain or other European countries like France or Italy.
This solution is simple and will end the suffering of thousands of Sahrawis who were born and grew up under the scorching sun in the Algerian desert, he says, recalling that Moroccan authorities have developed long time ago the necessary infrastructure (housing, schools, hospitals etc.) to accommodate the maximum of returning Sahrawis from the Tindouf camps.