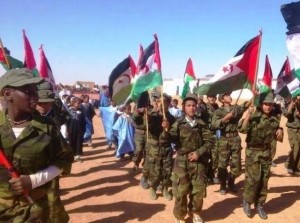 After the resounding scandal of humanitarian aid misappropriation, the Polisario Front leaders got hit with a new more serious scandal as it concerns the recruitment of children by the Sahrawi army.
According to reliable sources based in the Tindouf camps, "many children are forcibly recruited by the Polisario armed militias" and trained to handling firearms. They are also subjected, with the assistance of foreign and Algerian military instructors, to ideological indoctrination before they are enrolled in the ranks of the army of the so-called Sahrawi Republic "SADR."
The information was confirmed by the Forum of support to Tindouf autonomists (FORSATIN,) a group of Sahrawi dissidents who militate in favor of the option of autonomy for Western Sahara proposed by Morocco as a final settlement of the territorial dispute opposing it to neighboring Algeria through the Polisario.
In a statement, FORSATIN, which musters hundreds of militants in Tindouf, said that dozens of child soldiers were involved in battle simulations conducted by the Polisario militia in the Algerian desert near the Tindouf camps, but far away from the prying eyes of NGOs' volunteers working in the camps.
In its statement, FORSATIN called the parents of these children to strongly oppose such practices, which endanger the lives of their offspring through the handling of firearms and explosives.
In the past, the Polisario leaders used to dispatch children abroad especially to Cuba, where military instructors, well versed in guerrilla warfare techniques, were responsible for the dirty work in return for generous remuneration drawn from the slush funds of the Algerian Military Intelligence Services (DRS.)
But with the many scandals involving the Polisario leaders and their Algerian mentors, host countries are no longer willing to receive children from the Tindouf camps who were supposed to study or spend holidays in summer camps but were actually on indoctrination trips.
FORSATIN urged international child protection NGOs to pressure the Polisario and the Algerian rulers to end this "inhuman" exploitation of children for military purposes and propaganda.