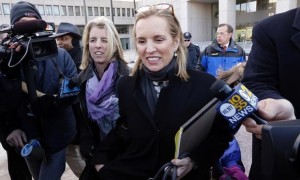 The American bounty hunter, Kerry Kennedy, as usual, made one of her media appearances just after the announcement that the UN mediator for Western Sahara, Christopher Ross, would shortly conduct a new tour in the Maghreb region.
Kerry Kennedy tried hard in the UN corridors in New York to convince some members of the Security Council to "extend the MINURSO mandate to human rights monitoring" in Western Sahara. After all her attempts failed, she resorted to the British newspaper "The Guardian" to sell the "goods" commissioned by the Algerian regime for which she was paid high fees in petrodollars.
Kerry Kennedy, who used all her relations to plead the lost cause of the Polisario separatists at the level of the United Nations but to no avail, seems to be now short of ideas.
That's why, she unearthed again the Human Rights issue hoping to score points in favor of the Polisario in the diplomatic battle waged against Morocco by the Sahrawi separatist movement and its Algerian mentor. But it was a waste of time and energy. Resolution 2218, adopted unanimously by the Security Council fifteen members on April 30, 2015 leaves no room for the manoeuvers of Kerry Kennedy and her Algerian friends and sponsors of the Polisario mercenaries.
The Security Council has not only ignored the request of Algeria and co but called officially and for the first time Algeria to allow the organization of a census of the Sahrawi refugees abusively and illegally held for four decades in the Tindouf camps in the Algerian desert.
Some think it is time for the American bounty hunter, Kerry Kennedy, to find a new niche, other than that of Western Sahara, or better yet, to retire after her set of successive failures. The money of the Algerian taxpayers has surely provided her with a golden retirement.