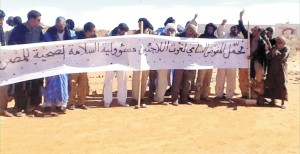 The people of Mhairiz, one of the Polisario-run Tindouf camps, handed a complaint letter to the head of the UN mission in Western Sahara (MINURSO,) Canadian Kim Bolduc while she was on a visit to Tindouf earlier this month to prepare for the UN Secretary General's projected visit to the region late 2015.
In this letter, nearly 1,200 families express their dissatisfaction with their dire living conditions that are becoming increasingly unbearable, principally by the diversion of international humanitarian aids and the speculation on foodstuffs sold in the camps.
The complainants affirm that most products displayed for sale come from international aid stocks that are under the control of the Polisario leadership, and that the assistance goods are sold at high prices by well-organized networks, supervised by Polisario leaders.
They say as an example that a liter of vegetable oil or 10 kg of flour –donated part of the humanitarian assistance- are sold in Tindouf for respectively 600 Dinars (over €5) and 1000 AD (€8.6).
The people of Mhairiz are not the only victims of these detrimental practices. Thousands of other deprived families that already suffer from lack of revenue and widespread unemployment are also forced to pay a high price for goods that were initially destined to be donated to them for nothing.
The food and health situation in the camps has worsened since the European Anti-Fraud Office (OLAF) published earlier this year a damning report that documented how Polisario leaders and their accomplices in the Algerian administration have embezzled for years, in a massive and organized way, the European Union aid destined to the Tindouf camps.
Following these revelations, donors have drastically reduced their aid or merely stopped it.
The head of the Sahrawi Red Crescent, Yahia Buhobeini, announced Sunday, August 9, that the High Commission for Refugees could not collect more than $9 million, while the needs of the camps populations from now on till the end of the year are estimated at $37 million.
During a press briefing, Buhobeini described the humanitarian situation in the camps as "very worrying" and said that 30% of the inhabitants are malnourished and 50% of women suffer from anemia.
However, he failed to pinpoint those responsible for the deteriorating situation: the Polisario leaders and their cronies, the masterminds of diversion and mismanagement.