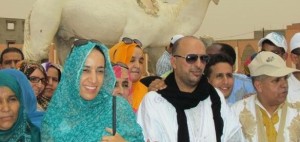 Informed sources in the Tindouf camps affirm that the Polisario separatist front is more destabilized than ever by the forthcoming local elections of September 4 in Morocco.
The reason behind the Algeria-backed front's great destabilization is to be found in the Sahrawis' unprecedented interest and involvement in the electoral campaign seen as a rejection of the separatists' claims that they represent the people of Western Sahara, the sources explained.
What is particularly surprising is that the pro-Polisario activists in major cities such as Laayoune, Smara, Boujdour, and Dakhla have totally disappeared from the landscape.
This contrasts with the usual attitude of the activists who seize every opportunity to attract attention like their stone-throwing against the security forces, a strategy they resort to whenever foreign delegations are visiting Western Sahara. They take pictures or film videos of the clashes they trigger and later on post them on social networks to convince the world that they are mere victims of tough Moroccan law enforcement agents.
A Polisario's website commented bitterly on the young Sahrawis' enthusiasm for the polls, saying that the campaign for the September 4 municipal and regional elections in Morocco, had "revealed the true face" of the Polisario supporters.
What is the real weight of these "human rights' activists to whom the Polisario leaders offer money and travel tickets to visit the Tindouf camps?" wonders the "Future of the Sahara" website which also criticizes the front leaders whose only concern is to take pictures with these visitors from Western Sahara.
Another Sahrawi website opposed to the Polisario's total subjugation and submission to Algeria, has multiplied critics against the Front leader Mohamed Abdelaziz.
"Is not the Polisario ashamed to claim ostentatiously that it represents the Sahrawis while its alleged army of sympathizers and supporters in the Western Sahara territory has been overshadowed by mere routine elections in Morocco?" wrote the site ironically.
The embarrassment created by the coming elections in Morocco has come as an additional resentment against the Polisario leaders at a time a climate of revolt is already prevailing in the Tindouf camps and the camps populations are still reeling from the scandal of the misappropriation of international aid.
Much of the humanitarian aid destined to the camps has been diverted for years by Polisario members, in collusion with Algerian officials.