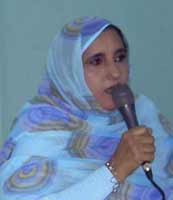 According to our sources, some Polisario Front "godfathers"did not welcome the nomination of Khadija Hamdi as Minister of culture
The impetuous wife of the secretary General of the Front seems to have a very personal perception of her new job. Last week, she fired several influential members of her office causing the anger of historical chiefs of the revolutionary movement.
The object of the discord would have been the disappearance of several archaeological objects stored in the building occupied by Mrs. Hamdi in Bir Lehlu. The same objects would have made a miraculous "reappearance" in Spain, where an influential member of the Front would have tried to sell them to a Spanish art dealer of Peruvian origin. This last, alerted by several press reports on degradations of prehistorical sites in the Sahara, would have alerted the local authorities who seized few flints as well as remedies of gravestones.
Having heard about the stones disappearance and their "reappearance" in Spain, Mrs. Hamdi would have refused to corroborate the version of the trafficker who affirmed having been charged to "give them to a museum".
However, it seems that the uncle of the trafficker is one of the founders of the Polisario Front. He defended his nephew before Mohammed Abdelaziz insisting on his innocence and good faith.
After some hesitations, the wife of the Polisario Secretary General has accepted the requirements of her husband …she announced that she was the one who gave the ok for the stones to be removed.