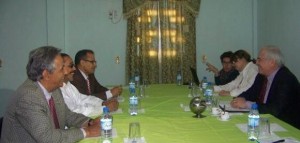 Christopher Ross has not met the Polisario leader in Tindouf. The reason does not lie in Mohamed Abdelaziz's sickness, as first thought.
Sahrawi informed sources from the Tindouf camps affirm that it is the Algerian officials who canceled the meeting to express their discontent towards the UN, which pressures the Polisario to return to the negotiating table with Morocco.
After his visit last February to the Polisario headquarters in Algeria, the UN secretary General's personal envoy for Western Sahara returned to the Tindouf camps on a three day visit early September. And the message he insistently conveys to the Polisario has been the same for some time: you must show realism and flexibility, as advocated by the Security Council, and return to the discussion table.
The message is particularly unnerving for Algerian leaders and for the military top brass who made of the Western Sahara issue a vital cause.
According to the same source, Algerian officials are fully aware that their position is no longer defensible at the international level, especially their stubborn rejection of the Morocco-proposed autonomy plan. They also know that their calls for the holding of a referendum and the establishment of a Sahrawi republic are not a viable option in the eyes of the world capitals.
Beyond the persisting tension between Morocco and Algeria in North Africa, the permanent members of the Security Council now see the position of Algiers and the Polisario as a destabilizing factor in a volatile region.
Terrorist groups seem to have permanently settled in the Sahel area where they launch their strikes from Mali to Nigeria, going through Chad, Niger, Libya, etc.
After the bloody terrorist operations against Western tourists in Tunisia, the major capitals are now sure that the other Maghreb countries will become an easy target of jihadist groups if nothing is done.
This complex regional situation explains the extreme caution observed by the world's major capitals in dealing with the Western Sahara issue, in view of its possible repercussions not only on the Maghreb, but also on Europe, says the same source.