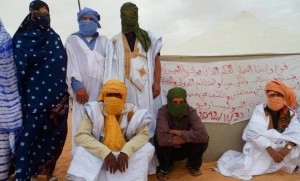 The Polisario chief is becoming increasingly weakened and fragile as the congress of the separatist Front scheduled for December is nearing. Informed sources in Tindouf explain this vulnerability by his growing unpopularity among the Sahrawis of the Tindouf camps.
Mohamed Abdelaziz knows that the scandal of misappropriation of international humanitarian assistance, revealed by the European Union earlier this year, is still present in minds. The scandal has dealt him a serious blow, especially that several other Polisario leaders are involved in the robbery, in complicity with Algerian officials.
However, the growing anger against the Polisario leadership is fueled by the precarious situation of the Sahrawi populations in the camps, and the despair of the disenfranchised youths who see no light at the end of the tunnel, as the settlement of the Western Sahara issue is deadlocked.
The majority of the Sahrawis in Tindouf is convinced that the Polisario leader is the main responsible for the current stalemate because of his blind alignment on Algeria, whose agenda and political ambitions in the region are well-known.
The same sources said that the Tindouf Sahrawis' distrust vis-à-vis the Polisario leadership is illustrated by the increasing number of voices calling to give the autonomy plan a try. Moreover, the head of the Polisario, already weakened by his health condition, was particularly embarrassed vis-à-vis the Algerians by the recent statements made by dissident Mahjoub Salek.
The head of the dissident khat Achahid movement, Mahjoub Salek, who is one of the founders of the Polisario, said that the Sahrawis in Tindouf are favorable to the autonomy plan proposed by Morocco.
Mahjoub Salek's statements are all the more embarrassing that the Polisario leader knows that he has no alternative to present at the December congress, apart from his usual corny threats to which the Sahrawis pay no more attention.
According to the same sources, the only consolation that remains for Mohamed Abdelaziz is perhaps the recent appointment of General Bashir Tartag at the head of the Algerian military intelligence services (DRS.) Tartag is an old acquaintance of the Polisario leader who had trained the first military nucleus of the Saharawi Front in the 70s.