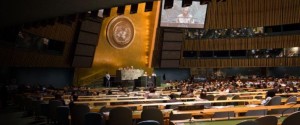 The debate on the Western Sahara issue that took place on October 12 at the United Nations General Assembly in New York turned out in a bilateral Algerian-Moroccan debate so heated that the Algerian side went off its usual reservation and incautiously substituted itself to the Polisario.
According to sources present at the debate, the rage demonstrated by the Algerian representative in defending the Polisario has only confirmed what everyone already knew. Namely, that it is the Algerian regime which nurtures the Western Sahara conflict that it created four decades ago, at the height of the Cold War, with the aim of weakening Morocco.
However, if Algeria's support to the Polisario in the 70s, alongside Libya's Muammar Gaddafi, was understandable in the context of that time, today's sponsorship of the separatist front means only one thing: the Algerian politico-military regime's hegemonic aims in the region.
Moreover, several participants who took the floor during the debate accused Algerian leaders of using the Sahrawis living in the Polisario-run Tindouf camps for their own political ends.
Stacy Pearson, president of Protected Future organization, has even claimed that the Sahrawis in the Tindouf camps in Algeria were "not refugees." They are "prisoners without status."

Addressing the participants in the debate of the General Assembly 4th committee, Stacy Pearson did not hesitate to say it high and clear: "It is now up to everyone to work for the release of the camps prisoners." And in this respect, "your decision has not to appeal to Algeria, Morocco or the Polisario, but it is your responsibility to release these prisoners who have no choice."