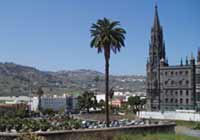 The summer house of the Polisario Front Secretary General in Arucas (the Canaries) would have been "visited" last Sunday night.
Apparently, nothing was missing from the house and according to a close source to the leaders of the Polisario Front; the "night visitors" would have had the keys of the residence.
According to the same source, the Secretary General of the Polisario front was not happy when he learned that his villa "has been visited", but refused to file a complaint, not wanting to appear as owner of the residence which is registered under the name of a company in town.
Always according to this same source, it is more than probable that this "visit" was a "warning" from people having worked for the SG of Polisario during several years in the maintenance of the house and who were fired without notice by his wife last October.
The Secretary General of the Polisario Front has asked his representative in the Canaries to replace the villa's locks.