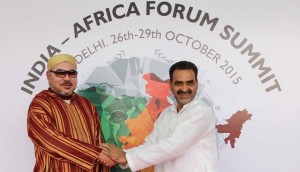 India has opposed an adamant niet to the participation of a delegation of the so-called Sahrawi republic "SADR" in the India-Africa summit, rejecting thus the request backed by the African Union (AU) and Algerian diplomacy.
In contrast, Morocco is represented in the summit at the highest level, as King Mohammed VI was among the first heads of state to arrive in New Delhi to participate in the 3rd India-Africa Summit held October 26 to 29 in the Indian capital.
The king's busy schedule during this visit, his third to India since 2001, includes a meeting with the President of India Pranab Mukherjee as well as meetings with many African Heads of State and Government taking part in the summit.
The debates of the 3rd India-Africa Summit will focus on cooperation in various fields between India and African countries. Participants will also address sensitive issues such as terrorism, climate change and environment and sustained development.
The presence at the summit of King Mohammed VI, a fervent advocate of South-South cooperation, particularly at the level of the African continent, attracted the attention of political and media spheres in New Delhi.
"India Times" commented Monday on the Moroccan King's participation in the summit that it described as a "strong gesture," and pointed out that king Mohammed VI is accompanied by more than 300 officials, economic operators and businessmen.
The interest that the Indian highest authorities grant to Morocco's participation in the person of the king was thus evidenced by their adamant refusal to let a delegation from the Algeria-backed Polisario participate in the summit.
According to an African diplomat accredited in New Delhi, in its rivalry with Morocco, Algeria often manages to manipulate the African Union but it is far from fulfilling its geostrategic ambitions and imposing its regional leadership.